FI-X30S 46-AB45DL-LGXJ1G LVDS cable for 1366*768 HD LCD panel
LVDS cable model no.: 46-AB45DL-LGXJ1G
Cable length: about 450mm.
LVDS connector: 1ch LVDS 8bits RGB
Pins: 30 pin to 30 pin
Wiring:
5 pairs of white/yellow wires for signaling connection;
black wires stand for "Ground" and red wires stand for "Power"
Suitable for LCD with LVDS details as below: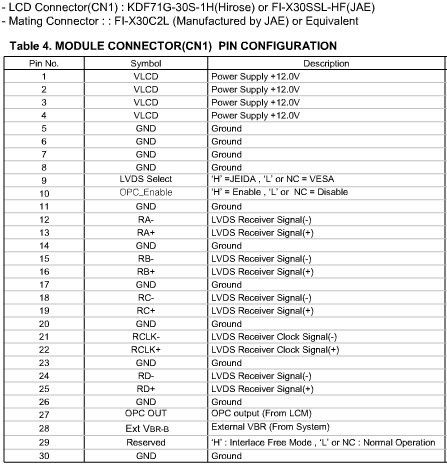 This type LVDS cable suitable for panels ≥ 26" (26" included), for resolution 1366*768 HD panels.
Compatible with LG, AUO, CMO, CPT panels.
| | | |
| --- | --- | --- |
| Panel size (inch) | Brand | Model no. |
| 24 | AUO | T240XW01 V0 |
| 26 | LGD | LC260EXN-SCB1 |
| 26 | LGD | LC260WXE-SBA1 |
| 26 | LGD | LC260WXN-SBA1 |
| 32 | CMO | V315B3-L01 |
| 32 | CMO | V315B6-L02 |
| 32 | CMO | V315B6-L01 |
| 32 | CPT | CLAA320WA01 |
| 32 | CPT | CLAA320WB02 |
| 32 | CPT | CLAA320WB02C |
| 32 | LGD | LC320EXN-SCA1 |
| 32 | LGD | LC320WXN-SAC1 |
| 32 | LGD | LC320WXN-SBD1 |
| 32 | LGD | LC320WXE-SBA1 |
| 32 | LGD | LC320WXN-SBA1 |
| 32 | LGD | LC320WXN-SCA1 |
| 32 | LGD | LC320WXN-SCB1 |
| 32 | LGD | LC320WXN-SCC1 |
| 37 | CMO | V370B1-L01 |
| 37 | CMO | V370B1-L03 |
| 37 | CPT | CLAA370WA02 |
| 37 | CPT | CLAA370WA03 |
| 37 | LGD | LC370WX4-SLE1 |
| 37 | LGD | LC370WXN-SAB1 |
| 37 | LGD | LC370WXN-SBD1 |
| 37 | LGD | LC370WXE-SBV1 |
| 42 | LGD | LC420WX7-SLE1 |
| 42 | LGD | LC420WXN-SAB1 |
| 47 | LGD | LC470WXN-SAB1 |
The panel model no. can usually be found written on a sticker on the back of the LCD panel, and "LG LC470WXN-SAB1" is an example.(disassemble it from its plastic shell and find the sticker)